In the fast-paced world of AI and innovation, a distinctive symbol can encapsulate an entire philosophy. At AGENTS.inc, we're excited to announce that our recently approved trademark, the Bow Tie Logo, represents more than just a visual identity. It's a symbol that embodies our values, philosophy, and commitment to bridging the digital and human realms.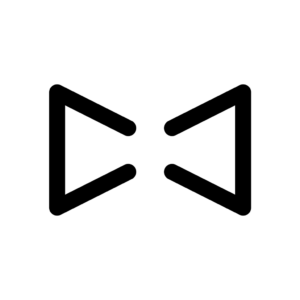 The Bow Tie: Where Innovation Meets Humanity
Our Bow Tie Logo is more than just a design; it's a reflection of our core principles. With the bow tie's elegant and rounded outline, we emphasize our commitment to embracing both advanced digital technologies and the warmth of human interaction. The clean lines and open design reflect the transparency and openness of our approach. Just as AI is transforming industries, the bow tie logo signifies our willingness to adapt and collaborate.
Innovation Beyond Boundaries
In the realm of AI, innovation knows no bounds. The stylized bow tie in our logo is a nod to the world of agents. Like a bow tie effortlessly bridges two sides, our AI Agents bridge the gap between cutting-edge technology and practical human applications. It's a tribute to our commitment to making AI accessible, user-friendly, and impactful for individuals and organizations alike.
A Tale of Openness and Connectivity
The bow tie is a universal symbol of sophistication. Our open-design bow tie logo speaks of connectivity – connecting ideas, people, and data. The gentle curves represent the ease with which our AI Agents interact with users and data, ensuring that technology doesn't feel distant or intimidating. It's a reminder that technology can be both advanced and approachable.
A Legacy of Trust and Innovation
As we proudly don our Bow Tie Logo, we're reminded of the journey that led us here. It's a symbol of trust that our clients place in us and the innovative solutions we bring to the table. From providing real-time market intelligence to automating data analysis, our Bow Tie Logo encapsulates our commitment to pioneering solutions that make a difference.
Empowering the Future
Our Bow Tie Logo isn't just an emblem; it's a promise. A promise to keep innovating, keep connecting, and keep humanizing technology. As we venture into new frontiers of AI, this logo will stand as a testament to our values, guiding us as we empower individuals and organizations to harness the power of AI for a brighter future.
At AGENTS.inc, our Bow Tie Logo is more than just an image – it's a representation of our mission, vision, and dedication to shaping the future of AI. As we continue to create AI Agents that bridge the gap between technology and humanity, our logo will always remind us of the transformative journey we're on.